Summer
Winter
Links
__Town of Sanford__
Previous Years
Passages 2017 Updated 12/2/17
Young, Joan H. Joan Hester Young passed away peacefully on November 21, 2017 surrounded by her loving family. Joan lived life to the fullest until the end. She was full of love, wit and valued her friendships and family. Joan was a devoted wife and best friend to her husband, John. She was a loving mother, mother-in-law and grandmother. Joan was born in Binghamton, NY, graduated from Binghamton Central High School Class of 1956, Cornell University Class of 1960 where she was a member of Delta Gamma Sorority, and received a Master's in Education at SUNY Cortland. Joan was a teacher in the Binghamton City School District for over 30 years. Joan was a lifelong member of St. Patrick's Church, a member of the Board of Trustees at Broome Community College, a member of the Binghamton Junior League, Monday Afternoon Club, and various other community organizations. Joan is predeceased by her parents, Joseph P. Hester Sr. and Mary Walpole Hester, and her brother Hon. Joseph P. Hester Jr. Joan is survived by her husband of 53 years, John W. Young and their three children: Hon. Mark H. Young and his wife Dawn, Meghan Y. Crowley and her husband Kiernan, Mara Y. Grace and her husband Christopher; and eight grandchildren: Jaime and Reagan Young, Conlon, Ronan, Brody and Alley Crowley, and Finnegan and Declan Grace; her sister Marilyn Hester Ridgley and her husband Robert; sister in law Suzanne Hester; many beloved nephews and nieces as well as many dear friends. Joan loved spending time with her family and friends. She loved going to all of her kids and grandkids sporting events and activities. She spent her winters in Jupiter, Florida and summers at Oquaga Lake. She cherished her time at the lake where she was able to be with her children and grandchildren swimming and waterskiing all day. Joan enjoyed playing golf and paddle tennis with her friends at the Binghamton Country Club, tennis with her friends, and playing bridge with husband and other couples. The family would like to acknowledge and thank the wonderful care and respect Joan received from Lourdes Hospital, Hilltop and Wilson Hospital. A Funeral Mass will be offered at St. Patrick's Church, corner of Oak and Leroy Streets, Binghamton, Monday at 10 a.m. Burial will be in Calvary Cemetery, Johnson City. The family will receive friends at the J.A. McCormack Sons Funeral Home, 141 Main Street, Binghamton, Sunday 1-4 pm. Expressions of sympathy in Joan's memory may be made to St. Patrick's Church, 9 Leroy Street, Binghamton, NY 13905. Published in Binghamton Press & Sun-Bulletin from Nov. 24 to Nov. 26, 2017
Hester, Honorable Joseph P The Honorable Joseph P. Hester, Jr., 78, passed away on September 26, 2017 surrounded by his loving family. Despite struggling with Parkinson's Disease for several years, Joe lived his life to the fullest until the end. Joe practiced law in New York and Pennsylvania for over 50 years. He thoroughly enjoyed practicing Family Law for 25 years prior to becoming a Broome County Family Court Judge and a New York State Supreme Court Justice. Joe was a devoted husband and friend to his beautiful bride, with whom he recently celebrated 50 years of marriage. He was a loving father, father-in-law & grandfather. Joe was a source of warmth, love and wit for the many people who were a part of his world. Joe enjoyed a rich social life and was blessed with many good friends. Born in Binghamton, NY, Joe was an accomplished graduate of Binghamton High School, Yale College and Syracuse University Law School. Joe believed that education was the key to personal enrichment and opportunities. He valued family, friendship, and always looked for the good in others. He was an active member of civic and social life in his community, having been a past President of the Binghamton City Council, a former Chairman of Broome County Republican Party, a board member of the Catholic Social Services, a board member of the Rose Conservancy and a member of the 21 Club. He was a life long member of St. Patrick's Church, Binghamton and its choir. An avid sportsman, Joe was happiest on a tennis or squash court, a ski slope or jumping in a lake. His friends and family will always remember him as a kind, wise, playful and gentle soul. Joe is predeceased by his parents, Joseph P. Hester, Sr. and Mary Walpole Hester. Joe is survived by his wife, Suzanne Fischer Hester and their two children: Bridget Hester Fantini and her husband Riccardo, Kate Hester Siler and her husband Matt; two grandchildren: Giulia Fantini and Camille Siler; two sisters: Marilyn Hester Ridgley and her husband Robert, Joan Hester Young and her husband John; the Fischer family; many beloved nieces and nephews and many dear friends. A Funeral Mass will be offered at St. Patrick's Church, corner of Oak and Leroy Streets, Binghamton, Saturday, at 9:30 a.m. The Rev. Msgr. John P. Putano will officiate. Burial will be in St. Augustine's Cemetery, Silver Lake, PA. The family will receive friends at J.A. McCormack Sons Funeral Home, 141 Main Street, Binghamton, Friday from 4 to 7 p.m. As Joe always believed in the best of humankind, in lieu of flowers, our family encourages everyone to practice an act of kindness or to donate, in Joe's name, to a charity that is important to you.
Published in Binghamton Press & Sun-Bulletin from Sept. 28 to Sept. 30, 2017
Koffman, Burton "Bud" We mourn the loss of a wonderful man, who in the words of Rudyard Kipling, could "walk with kings nor lose the common touch". Burton "Bud" Koffman, from Binghamton, NY passed away surrounded by his family on September 20th, days after celebrating his 92nd birthday. It was a day we thought would never come as he had an indefatigable appetite for life. Always a competitor and athlete, he stayed in the ring throwing leather till he could throw no more. Bud is survived by his loving and devoted wife of 59 years Ruthanne, and four loving children David (Donna), Betsy (Lorraine), Steven (Linda), and Jeffrey (Toni-Anne) as well as nine adoring grandchildren. He is survived by his brother Richard (Sara) and many nieces and nephews. His parents, Billie and Harry Koffman, sister, Charlotte Gordon, Brother-in-Law Ned Gordon, nephew Robert Gordon and Uncle Milty Koffman predeceased him as did his in- laws Alec and Eva Rosefsky and brothers-in-law Robert and Daniel Rosefsky. Bud was born in 1925 and spent most of his life in Binghamton. He went to prep school for 2 years at Mercersburg Academy and graduated in 1943. It was here where he developed his love of poetry. He attended college at the University of Pennsylvania's Wharton School of Business where he completed one semester before going into the service. He spent 4 months at Fort McCullen and was sent overseas. As a Private First Class in the 101st Airborne during WWII, Bud traveled to North Africa, Italy, France and Germany. He worked with army intelligence reading and sorting maps. After returning to the Wharton School, where he graduated with a B.S. in Economics, he played football under George Munger. He was in an elite group of "Munger Men" who played and lettered throughout George Munger's years (1938-1953) as the University's head coach. After returning to Binghamton, he began his career working with his father in the family's Public Loan Company. Later, he started his own business, the Beacon Loan Company, which served Pennsylvania and New Jersey. Years later Bud merged the Beacon Loan Company with his family's business. Bud will be remembered as a "great athlete." In addition to football, Bud excelled at all racquet sports and was inducted into the JCC Hall of Fame. He won numerous paddleball tournaments at the YMCA and JCC and was known for his fierce competitive nature. He was a tenacious boxer in high school. He played tennis every weekend for over 30 years with his friend Brian. He loved horses and for years would ride with his friends on many weekends. At his beloved Oquaga Lake, Bud would dock start on one ski until he was 55 and later enjoyed watching all his children and grandchildren learning to ski. Throughout his life he loved playing golf with family and so many of his friends. Anyone who competed with Bud knew he was a great sportsman and a born natural athlete. Bud loved magic. He never missed an opportunity to engage old and young with his "sleight of hand" that enabled salt shakers to disappear and coins to reappear at will. As a CEO, business owner and investor, Bud was involved in numerous public and private companies. He was a consummate dealmaker. He always was creating new ways to finance and structure a deal, which often began on the back of a napkin. He often said, "You're only limited by your own creativity." One of his favorite places was sitting behind his office desk where he could overlook the colorful atrium and koi pond while surrounded by his favorite poems, paintings, and pictures of family. Bud always recited poems even in his last few days. Always believing in people and wanting to give others a chance at success, Bud helped almost everyone who came to him start and grow their business. Over the years, Bud has given of himself to many groups, organizations and individuals. Bud led by example. He was always the first to contribute to many causes or projects especially in Binghamton, the community he loved. Some of these included his being a founding member of Temple Concord and to the Jewish Community Center. He was a large contributor to Temple Israel, the YMCA and many others. He has served as an officer on many boards. Some of these include: the United Way, Lourdes Hospital, the YMCA, PAL, and Bankers Trust. He was honored as the NAACP's "Man of the Year". He was a member of the Harpur Forum and on the Binghamton University Advisory Board to the School of Management, where he lectured on entrepreneurial matters. In October of 2003, Bud received the Distinguished Service Award from the B.U. Alumni Association. Bud's legacy is also reflected in the endowed chair at the Binghamton University School of Management in memory of Bud's parents, a gift to the Binghamton University Events Center, and a major gift for the recently opened Koffman Southern Tier Incubator. As philanthropy was a foundation of Bud's life, he supported a myriad of other local, Israeli, and worldwide causes. Bud was a man for all seasons. He will be greatly missed by all whose lives he touched with his friendship, humor, kindness and generosity. The family appreciates all the support from his dedicated and caring team of doctors led by Dr. Lodi and Dr. Elnour, his wonderful nurses and aides at the Wilson ICU, neuro suites, 5th floor and BGH transitional care unit. There will be a Celebration of Life service at Temple Israel, 4737 Deerfield Place, Vestal, NY on Sunday September 24th at 11:00 a.m. There will be a private family burial. The family will observe Shiva on Sunday evening September 24th at Temple Israel from 7 p.m. - 9 p.m. and Monday evening September 25th, at the Koffman residence from 6:30 p.m. - 8:30 p.m. In lieu of flowers, please make a contribution in Bud's memory to the Broome County Jewish Federation, the Jewish Community Center of Broome County or a charity of your choice. Please visit ParsonsFuneral.Com to offer your condolences.
Published in Binghamton Press & Sun-Bulletin on Sept. 22, 2017
Smith, David Franks David Franks Smith, 74, passed away August 22, 2017. He was born on October 23, 1942 in Durham, North Carolina. He is predeceased by his mother, H. Marie Smith and father, John D. Smith. He is survived by his wife, Sarah (Sallie) W. Smith of 47 years; son, Eric Lynn Smith and his wife Debbie; daughter, Lydia Buffington and husband Chris; as well as four grandchildren: Taylor Smith, Tucker Smith, Hannah Buffington, and Grace Buffington. He and his parents returned to the area in 1943, first living at Oquaga Lake and then returning to the family home in Deposit. He continued to spend summers at the lake with his family for the rest of his life. After graduating in 1966 from the Union University Albany College of Pharmacy, he took over the operation of the family business, Smith's Pharmacy while serving in the United States Army Reserves in the 73rd Mobile Surgical Hospital Unit through the early 70's. He was the fourth generation of family pharmacists to run the business that operated from 1882 - 1987. From 1976 - 1987 he and his wife also operated Bassins Department Store in conjunction with Smith's Pharmacy. He went on to work for a few area independent pharmacies before joining Brooks Pharmacy which became Revco. While employed there he was presented with Outstanding Pharmacy of the Year (1996) in the store where he served as supervising pharmacist. When CVS took over Revco, David was again given an award for having the best run pharmacy in 2002. He worked at the CVS in Walton until his retirement in 2009. David enjoyed dedicating his life in a career serving his customers with a kind heart, listening ear, and quick-witted joke when you needed it the most. David was a lifelong resident of Deposit and member of the Deposit First United Methodist Church. He was a member and past president of many organizations during his life time including the Deposit Historical Society, Pine Grove Cemetery Association, D.E.E.P., Deposit Rural Housing Association, Deposit Chamber of Commerce as well as a member of the Oquaga Lake Improvement Association. David was an avid golfer and played in the Tuesday Night League at Hanson's Golf Course for many years. He also had a lifetime love of music and received much recognition as an outstanding percussionist throughout his high school and college careers. He continued to play for his own and his family's enjoyment for years. David was also an avid reader and it was rare not to find an amazing book or piece of literature in his hand. He had a wealth of knowledge and adages that he was known for sharing in his unique and humorous way. Donations may be made to the Mercy House of Endicott, NY; Deposit Free Library or the Deposit Historical Society. A Memorial Service will be held Sunday, August 27, 2017 at 2:00 PM at the Deposit First United Methodist Church. Friends may call at the church on Sunday from 1:00 - 2:00 PM time of service. Arrangements are through the Zacharias Funeral Home, Deposit, NY. Condolences may be expressed at www.zachariasfuneralhome.com. Published in Binghamton Press & Sun-Bulletin on Aug. 25, 2017
Akel, Ferris George II. A "GIANT" has passed. Ferris Akel left this world peacefully on Friday, May 19, 2017 with his family at his side. He was predeceased by his paternal grandmother Delia, his parents George and Georgette, his Uncle Metrie "Mike" and Aunt Renee, and his "twin" cousin Lillian. He is survived by Louise, his wife and best friend of 55 years, their five children Stephanie (Jeff), Nicole (Paul), Ferris III, Martine (John), Philip (Bridget) and their six grandchildren Giuliana, Cameron, Finbarr, Fritz, Isabelle, and Madeline. Ferris is also survived by his brothers, George (Sally) and Ronald (Beth), his partners both in business and in life. Ferris leaves behind his cousins Yvette, Madeline, and Renee, as well as his nieces and nephews Andrea (Ibrahim), George III (Laura), Jeffrey (Erin), Donald, Kara (John), and several great nieces and nephews. Having lost his own father at the young age of 21, Ferris set aside his personal ambitions, focusing instead on the care of his family and management of their business, Binghamton Giant Markets, Inc. Determined to complete his education, Ferris tended to the business by day, and studied at Harpur College by night, earning his degree in 1959. Ferris' dedication to the community was unwavering. He was Chairman of the Dr. G. Clifford and Florence B. Decker Foundation. He served on the Binghamton University School of Management Advisory Board, and was named to the Binghamton University Harpur Forum School of Honor. Ferris also served on the boards of directors of United Health Services, Inc., UHS Professional Home Care, Inc., UHS Twin Tier Home Health, BSB Bank & Trust Company, The Binghamton Symphony, The Roberson Museum and Science Center and others, all while providing support to numerous organizations throughout the community. The family wishes to acknowledge and sincerely thank each and every physician, nurse, and member of the Binghamton General Hospital staff involved in Ferris' care, for their professionalism, compassion, and kindness. The family would also like to express its most sincere gratitude to the physician friends of the family who made numerous trips to the hospital, providing guidance, solace, and companionship. Although there will be no calling hours, a Funeral service in celebration of Ferris' life will be held at Trinity Memorial Episcopal Church, 44 Main Street, Binghamton, on Wednesday, May 24th at 10:30 in the morning, with the Rev. Glenn Mahaffey officiating. A private burial service will be held at the convenience of the family. In lieu of flowers, memorial contributions may be made to the UHS Foundation, Binghamton University Foundation, or Trinity Memorial Episcopal Church.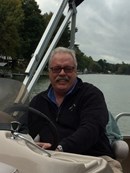 Christopher V. McDonald Jr, 61 of Binghamton passed away unexpectedly on May 4 at Lourdes Hospital after a short illness. He was predeceased by his parents Chris and MaryAnn (McDonald) McDonald. A graduate of Catholic Central HS and Franklin Pierce College, Rindge, NH, Chris was a National Sales Manager for Komatsu Forklift U.S.A., LLC. He leaves behind his children, Corynn (Cory) McDonald, Logan F. McDonald, his love and partner in life's adventures, Dayle O'Connor, his sisters M. Sharon Elliott, her family John P. Elliott and Cailin M. Elliott, Ann (Annie) C. McDonald, the mother of his children Kathleen Farrell McDonald as well as the many member of his large extended family - aunts, uncle, cousins, friends and colleagues. Chris loved "the lake" and it was there he was the happiest. He relished his Irish American heritage and all that came with it…grand stories, bagpipes and laughter. He was a good man with a big heart who never spared his opinion or his love. He will be sorely missed. The family would like to thank the doctors and staff of Lourdes Hospital ICU for their heroic efforts. A Funeral Mass will be offered at St. Patrick's Church, corner of Oak and Leroy Streets, Binghamton on Monday, May 8th at 9:30 a.m. Burial will be in St. Augustine's Cemetery, Silver Lake, PA at the convenience of the family. The family will receive friends at J.A. McCormack Sons Funeral Home, 141 Main St. Binghamton, Sunday May 7th , from 3 to 6 p.m. In lieu of flowers donations can be made in Chris's memory to the Ancient Order of Hibernians, 148 Main Street, Binghamton, NY 13905